Monday, May 15, 2017 5:34:56 PM Asia/Taipei
What happened?
1G price reduction
leaf switch SKUs that combines 10G and 25G
spine switchSKUs that combines 40G and 100G
Read More
Monday, March 13, 2017 2:27:46 PM Asia/Taipei
Edge-Core AS5512-54X is the first commercially-available switch with Nephos Aries MT3257 ASIC.
Looks like a traditional 10G switch with 48x 10G and 6x 40G ports, having Intel Atom C2538 quad-core CPU, redundant hot-swappable PSU, and two airflow options.
Performance metrics:
Wire Speed Forwarding: L2 and L3
Switching Capacity: 1.44 Tbps
Forwarding Rate: 1 Bpps
MAC Addresses: 256 K
VLAN IDs: 4K
Jumbo frames (9216 Bytes)
L3 Routes: IPv4 maximum 96 K, IPv6 maximum 56 K
Packet Buffer Size: 12 MB shared buffer pool
Thursday, December 22, 2016 1:03:52 PM Asia/Taipei
Among all features and improvements, there is one for the CLI-hardened guys.
The Network Command Line Utility, or NCLU, is a command line interface for Cumulus Networks products that works just like your good old CLI interface.
Read More
Wednesday, November 23, 2016 3:38:49 PM Asia/Taipei
We manage to add support for 4-byte autonomous system (AS) numbers (RFC4893) in our ICOS NOS for Aurora 620/720 switches.
Read More
Thursday, October 20, 2016 3:49:27 PM Asia/Taipei
Looking to try ICOS or OpenSwitch?
Don't want to spend a lot of resources to get your PoC working?
Our internal lab with multiple Netberg Aurora switches is available for remote access!
Read More
Thursday, August 11, 2016 12:05:30 PM Asia/Taipei
There is a word that Aurora 620 and Aurora 720 supports Ubuntu with integrated OF-DPA 2.0
That means an availability of one more NOS option for Tomahawk HW and fully-features OpenFlow 1.3.4 support.
MPLS in all it's glory and several OpenFlow controllers tested.
Sounds interesting for those who want to play with telecom applications.
Wednesday, June 15, 2016 3:46:35 PM Asia/Taipei
Netberg Aurora 620 with 48x 25G SFP28 and 6x 100G QSFP28 ports is available from now on.
You can choose from bare metal and ICOS-fueled options.
Full replacement of 10/40G technology at the same cost to enhance your network!
Tuesday, June 14, 2016 2:57:50 PM Asia/Taipei
An alternative to ICOS is ready – OpenSwitch.
OpenSwitch - an open source, Linux-based network operating system (NOS) designed to power enterprise grade switches from multiple hardware vendors that will enable organizations to rapidly build data center networks that are customized for unique business needs.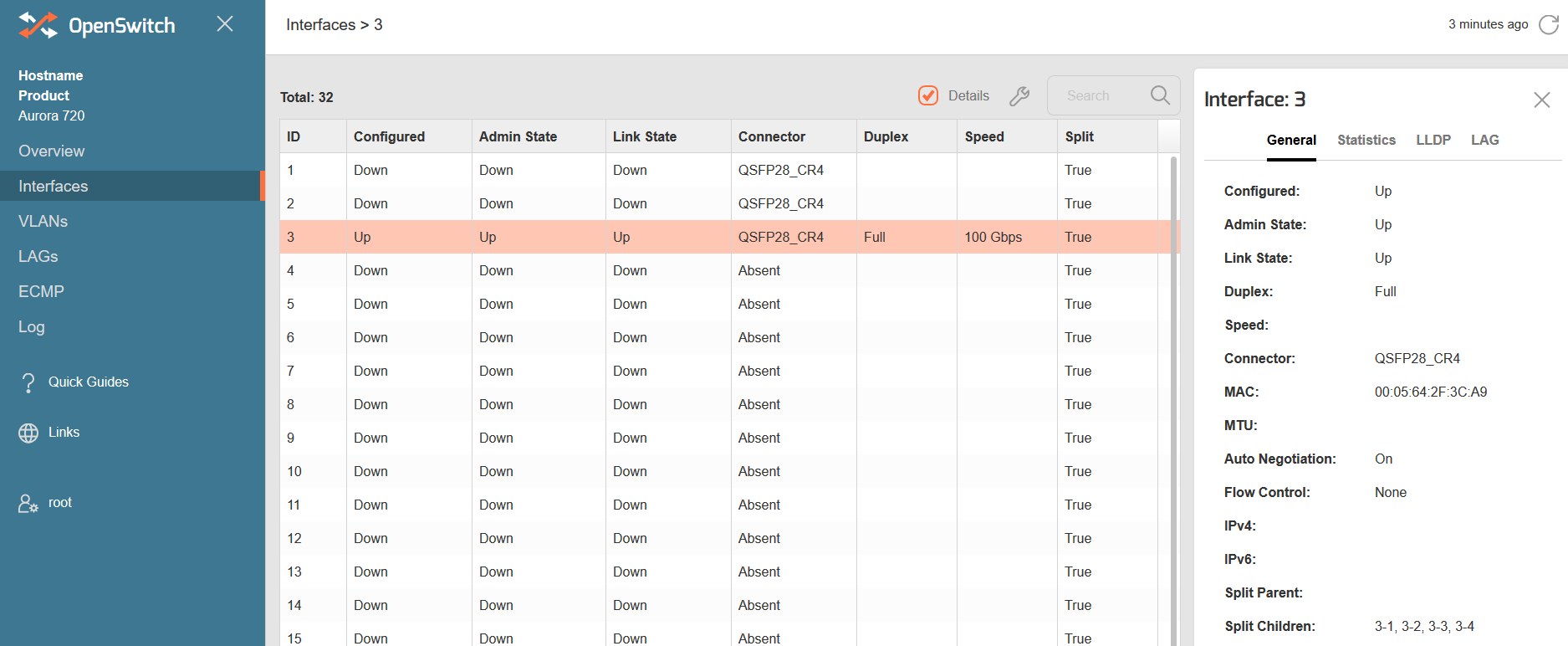 Now you can grab a bare metal version of Aurora 720 or Aurora 620 and make it ready for use in your network.
Wednesday, June 8, 2016 12:43:44 PM Asia/Taipei
More about ICOS here.
DC switch NOS evolution
For many years, switches were black boxes with management through CLI/web or special API from vendors.
Cumulus Linux was the first product that aimed to change the industry and manage a switch like a Linux server with standard Linux management, monitoring, and provisioning tools. However, Cumulus Linux is aimed at the particular market with heavy L3 usage and offers a limited set of network protocols.
What's going on with traditional CLI-oriented network OS?
They are going to be open too. Let's take a look at ICOS, a feature-rich package from Broadcom that serves as a foundation for NOS on their ASICs.
Unlike servers, Ethernet switch does not allow simple Linux deployment with an ASIC drivers. Special integration efforts are required for a proper LED indication management, port mapping, power control, etc. Such integration could be implemented in many ways, let's take a look at them.
Read More
Thursday, June 2, 2016 11:28:40 AM Asia/Taipei
It's a major release with 100G support as well as new 10G Base-T models. At last, Quanta LY9 is not the only one copper platform available.
Two Mellanox models are on the list too, 40 and 100G boxes.
Software and feature enhancements released in Cumulus Linux 3.0 include:

Cumulus Linux 3.0 is available on x86 and ARM CPU architectures. Cumulus Linux 2.5 ESR supports x86, ARM and PowerPC architectures.

For more information, please review the Cumulus Linux release notes to learn about all the improvements and new features in 3.0.